Take off your
"Windows Explorer Blindfold"
---
See more file information in Explorer

One of the STUPIDEST concepts to ever come out of Microsoft is the feature of "hidden files" and "hidden file extensions". By default in Windows Explorer, certain file types are hidden and associated files have their extensions "turned off". This is perfectly fine if you are a long-time PC user who can identify all of your files by their icon alone, however I honestly feel that this is crippling to newer users. How can one be expected to develop an understanding of that which is hidden from view?

Common amongst those new to PC's are problems dealing with the OPEN WITH dialog. Since the KEY to understanding FILE ASSOCIATIONS is the file type extension, and many newer users have never even SEEN one, is it a surprise that there are frequent problems with misassociations of file types with the wrong program? Thanks to this "feature" we have Aptiva owners trying to "view sounds", "play text" and "read images". :-(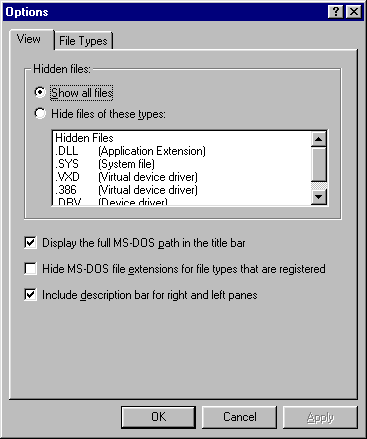 For all who want to see the whole picture in Explorer, here's how:

Open Windows Explorer
Click View
Click Options
On the View tab and you'll see some choices
Click "Show all files" and
Un-Check "Hide MS-DOS file extensions for file types that are registered"
Click Apply

There's are even choices to "Display the full MS-DOS path in the title bar" and "Include description bar for right and left panes" Just check (or uncheck) your choices and click "Apply" or "OK".

YOU WILL NOW SEE THE FULL
FILE NAME OF ALL YOUR FILES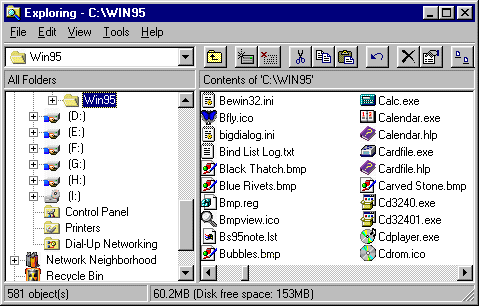 OPEN WITH
By doing the above you will quickly come to recognize the common Windows filetypes and learn that "file.txt" is a TEXT FILE, and that it OPENs WITH NotePad, that "file.wav" is a WAVE SOUND, and that it OPEN's WITH Sound Recorder, that "file.bmp" is a BITMAP IMAGE that OPEN's WITH MS-Paint and so on. Even with this knowledge, however, on occasion you will download a NEW filetype that may not be recognized by its extension (unrecoginzed by Windows95 as well as yourself).

In this situation where you have an "unknown" filetype (files that have no program associated for them to OPEN WITH will have the "Generic Win95 file Icon"), try a few different programs but remember to leave the "ALWAYS USE THIS PROGRAM TO OPEN THIS FILE" box is UNCHECKED. If the box is checked and the wrong program is chosen, the filetype will be misassociated

CORRECTING MIS-ASSOCIATIONS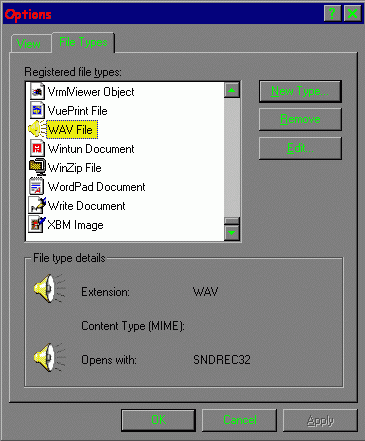 Open Windows Explorer
Click View
Click Options
Click the File Types tab
Find the file type on the list of associated file types
When you see it, click on it (Once) to Select
Click Remove
Answer Yes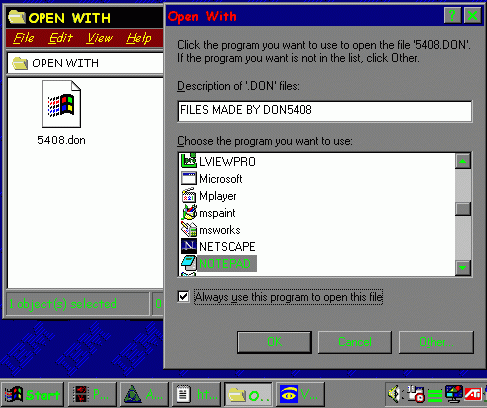 That type file will now be dis-associated from any program. It will again have the "generic" Win95 Icon and double-clicking on it will give you the OPEN WITH dialog. Select the correct program and if you are sure you have the right one, check the "Always use this program to open..." box.
CLICK HERE TO GO

TO DON5408's
UNOFFICIAL APTIVA SUPPORT SITE