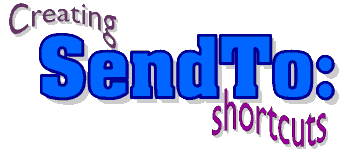 Click Finish

You will now have a shortcut to sending your files
to floppy diskette.

You can create a Sendto: shortcut for a frequently
saved to directory, as I do with my D:\Save folder
(Archives), or any program, like WordPad. You can
even create a shortcut directly to the Recycle Bin,
and using this will bypass the Confirm File Delete
dialog.
A great freeware application that can add all the other nifty SendTo: options seen above (SendTo Clipboard, SendTo
Any Folder etc) is SendTo X.

SendTo X is one of the Microsoft PowerToys, and you can
get it from the PowerToys page of the Aptiva Toolbox.
---
CLICK HERE TO GO

TO DON5408's
UNOFFICIAL APTIVA SUPPORT SITE